● A proven video management system

● Optimized for Axis' network video products

● Quick system setup and intuitive operation

● Efficient investigation and high definition identification

● Extensive support organization
Optimized for small- to mid-sized installations
AXIS Camera Station is the ideal solution to meet the needs for efficient surveillance of small- and midsized installations, such as retail shops, hotels, schools and manufacturing sites ? a proven solution with more than 50,000 installations worldwide. It is designed to perfectly match Axis' wide range of network video products and product features to optimize system reliability.
Ease of operation in focus
A setup wizard with automatic camera discovery guides you through every step of the setup process. This allows the system to be up and running within minutes. AXIS Camera Station is developed with focus on ease of use and intuitive operation, ensuring that anyone can effectively manage incidents and quickly export high definition evidence.
Staying with our customers all the way
Axis' strong presence in the market with local sales and support contacts worldwide and the extensive language support offered by AXIS Camera Station secures a reliable and efficient operation ? We stay with our customers all the way.
Installation scenario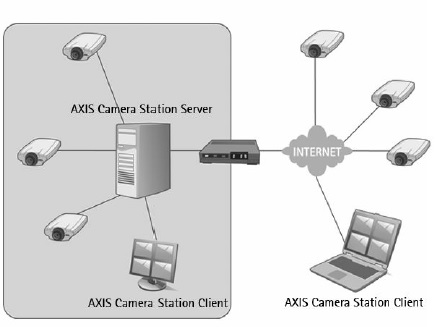 AXIS Camera Station Server, installed on a dedicated computer, handles the communication with cameras both inside and outside the local (corporate) network. The cameras are monitored and controlled from two AXIS Camera Station Clients ? one on the local network and one connected via the Internet.
카다로그

AXIS Camera Station
사용자 매뉴얼

AXIS Camera Station - User Manual

AXIS Camera Station - Installation Guide